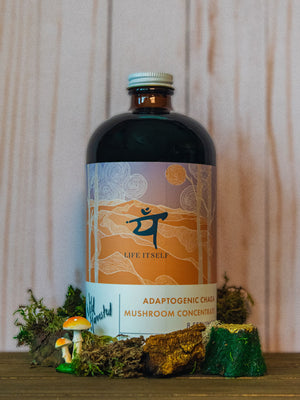 Life Itself
Chaga Tea Concentrate 32oz
Sale price Price $20.00 Regular price
LOCAL DELIVERY ONLY TO THE BUFFALO, NY AREA
FOR OUT OF STATE ORDERS, PLEASE ENJOY THE BREW IT YOURSELF CHAGA GROUNDS.
32oz of our wild-harvested Chaga Mushroom tea! Harvested by our own loving hands and brewed small-batch for 72 hours in Reverse Osmosis water. Sip by sip, allow this Chaga to heal your body, clear your mind, and open your heart to infinite possibilities and unconditional love.
Usage:
Recommended serving size is 4-6oz, 1-3 times per day
Keep refrigerated. May be enjoyed hot or cold. Do not boil or microwave.
Best enjoyed within 2-3 weeks of opening for maximum potency.
Can be added to your coffee, smoothie, tea, tonic elixir, water, or enjoyed as a wellness shot.
Do not consume Chaga if you are on insulin, diabetes medication, or blood thinners. Please consult your doctor if you are pregnant, nursing, or have an existing medical condition.
Main Benefits:
Anti-Inflammatory
Antioxidant
Boosts Energy
Improves Mood
Pain Relief
Immune Support
Anti-Viral
Mental Clarity
Stress Relieving
Improves Digestion
Harmonizes Gut Biome
Blood Sugar Balance
Improves Skin Tone
Detoxification
These statements have not been evaluated by the FDA. This product is not intended to diagnose, treat, cure, or prevent any disease.